LED Dimmers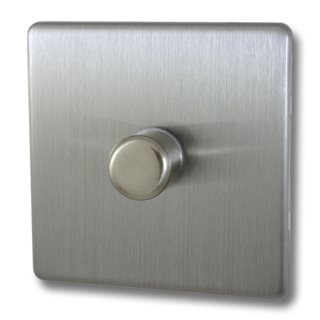 As we continue to see LED bulbs enter many homes as a fantastic alternative to incandescent and halogen bulbs we also see an increase in the need for LED dimmers.
In case you weren't aware, to use an LED light bulb with a dimmer they must be both a Dimmable LED light bulb (a standard LED probably won't work) and also you need to use an LED compatible dimmer.
What is an LED Compatible Dimmer?
Normal dimmers and LED compatible dimmers typically work in different ways. Most traditional dimmers are leading edge dimmers, where many LED dimmers, including the Varilight PRO dimmers that we recommend, are trailing edge dimmers. You can read more technical details about what the two types of dimmers are and how they work here, but the main thing to be aware of it using a non-LED compatible dimmer are likely to give you issues.
What Issues May You Get If You Don't Use an LED Compatible Dimmer?
We normally see two types of issues with LED bulbs being used with non-compatible LED dimmers. Either the lights will flicker or the dimmer itself will buzz.
The other time we see the bulbs flickering is when non-dimmable LED bulbs are used.
What Happens if My Dimmable LED Bulbs Flicker When Using with the Varilight V-PRO Dimmers?
Varilight have created three different settings to use with their LED dimmers. You may need to try these three settings if the first, default, setting does not work correctly. Fortunately Varilight have created a helpful guide and video to guide you through, that can be seen here.
Can I Change my Non-LED Compatible Dimmer for a Compatible One?
Yes, the Varilight V-PRO module will fit in most dimmer plates, it is a question of removing the current dimmer module and replacing it with a new one. We have them available to buy as a module only option here. Please don't forget to turn off the electricity before changing it, and if you are in any doubt consult a qualified electrician.