Frequently Asked Questions
Below are a few questions that are regularly asked. If your question isn't here please feel free to send us a question either by email, twitter, facebook or by giving us a call. Click here for our full contact details.
How Much Do You Charge for Delivery?
Standard delivery to mainland UK is free. Express delivery is available on a number of items, these items have a green banner on them, when this is available it costs £8.99.
When Will My Order Be Delivered?
Many of our items are in-stock and will be despatched within 2-4 working day on standard delivery. For orders that qualify for next day delivery, if the order is placed before midday, they will be despatched the same day and should be delivered the next working day. Orders placed after midday will be despatched the following day and should be delivered the working day after that.
Due to the large range of products we offer, some products are on a longer lead-time, many we keep a small stock of but usually they need to be manufactured to order. The lead-times are shown on the products and will also be shown in the basket. An estimated delivery date is shown at the basket and during checkout which factors in any additional lead-times.
If we or our supplier is out of stock for any reason we will inform you via email within one working day of placing the order.
If I choose the wrong unit can I send it back?
Yes, we accept returns so if you accidentally order the wrong thing just get in touch and we'll arrange for you to get it shipped back to us and on receiving the items we'll refund you the money. As long as you bought the item within the last 60 days and is the the same condition you received it in we will accept the return.
If you do send it back please send it to:
Socket Store Limited
c/o Cool Blue Group
JR Quarter
Office 9
Moy Road Industrial Estate
Taffs Well
CF15 7QR
Please see our returns policy for more details.
Is it OK to put masking tape or frog tape on the sockets and switches when decorating?
No, you must never put tape on the plates. All the manufacturers recommend not doing this, as it can damage the finish of the plate. Doing so will void your warranty on the plates.
Do The Dimmers Work With Low Energy Light Bulbs?
It depends on a number of things, including whether the low energy bulbs are dimmable (a lot of bulbs aren't dimmable). It also depends whether you have the minimum load on dimmer. Please click on our blog to learn more on how to work out the wattage of the dimmer.
What is the difference between the flat plate and the Ultra Slim range?
The flat plate ranges are made up of a completely flat plate. They are ideal for flat walls, typically new or plasterboarded walls. They do show up imperfections in the wall, so if you have walls with 'more character' you would be better with the ultra slim range. Please note that the Varilight flat plates are not suitable to be put straight on to newly plastered walls, so please ensure the walls have dried out fully (normally 6 months) or that you use a gasket between the wall and the plate. The G&H Brassware plates do not need this gasket, and are suitable for fitting on newly plastered walls.
The ultra slim range is thinner than a normal plate, but is still a pressed plate, rather than a flat piece of metal.
What size Back Boxes Do I Need For Standard Ranges?
The manufacturers recommend the following back boxes for Contour, Victorian, Georgian, Victorian Cast, Deco, Varilight Georgian, Varilight Victorian and oval ranges:
| | |
| --- | --- |
| Switches | 16mm Wall Boxes |
| Sockets and Dimmers | 25mm Wall Boxes |
| Cooker Switches | 32mm Wall Boxes |
| USB Sockets | 35mm Wall Boxes |
What size Back Boxes Do I Need For the Flat, Screwless and High Line Ranges?
The manufacturers recommend the following back boxes for the flat and screwless ranges of sockets and switches:
| | |
| --- | --- |
| Switches | 25mm Wall Boxes |
| Sockets and Dimmers | 35mm Wall Boxes |
| Cooker Switches | 47mm Wall Boxes |
| USB Sockets | 47mm Wall Boxes |
Can we come to visit your showroom?
Don't forget, we believe our best showroom is right here online. We have masses of images, lots of information and you can visit us night and day. We hope you can find anything you want online, but if not please get in touch and we will do everything possible to help.
How do I know it is safe to buy from Socket Store?
We treat your security very seriously. We use one of the world's leading certificate suppliers to ensure your details are not compromised.
We do not store any of your payment details, while this means you have to give the payment details for each order it does safeguard them.
We use only use trusted payment processors to take your payments like Paypal and HSBC.
Do you give additional discount on your web prices?
Yes, we're happy to offer an additional 5% on orders over £250, 10% on orders over £500 and 15% on orders over £1000. Don't worry, we'll automatically apply it for you within your basket, so you don't need to do anything to qualify. The discount can only be applied on each order totalling £250, £500 or £1,000 respectively, not be split across multiple orders that make up that amount.
What payment methods do you accept?
We can take payment by credit and debit card, PayPal and Google Checkout, giving you the most flexibility to pay in the way that suits you best.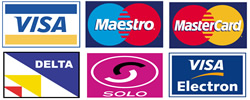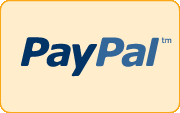 Do The Products Have Any Warranty?
All items are guaranteed against faults for 24 months. If you have a problem within that period please contact us. We will organise for you to send the item back and on confirmation of the fault we will refund or replace the item and reimburse you for any postage costs incurred.
Do you Export?
No, we do not offer an export service on any of our products.