What's the Difference Between Warm White and Cool White LEDs?
When it comes to LEDs there are actually many different shades of white. And when it comes to buying LED lamps, it's essential to know which you're getting.
We've written the guide below about the difference between warm white and cool white, but we also have a handy LED colours infographic explaining it. Just click on the link at the bottom of the page for more details.
If you are looking for LED bulbs and lamps don't forget we have a great selection available to buy now.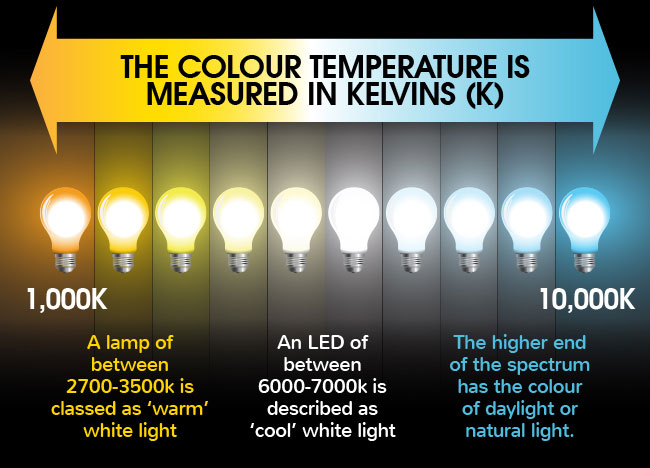 Cool White
Although there is a whole spectrum, whites can generally be divided into warm white and cool white. Cool white LEDs tend to give you a cleaner look, perfect for modern kitchens, the Scandi look and places where the best light really counts, for instance sewing rooms and garages.
Daylight
At the far end of the spectrum you have daylight lamps. They make ideal Christmas lights and decorations, as they resemble ice and frost. These lights can be bordering a blue light. In homes, many people find these a little too 'clinical', and prefer to use warm LEDs or cool LEDs, as the light emitted by tend to be easier on the eye.
Warm White
While cool white look great in modern kitchens and where the brighter the better, warm white works much better where you are looking for softer light. It's particularly well suited to lounges, living rooms and traditional kitchen, like country styles, where the white light contrasts too much with the rest of the room.
A Bit More About LED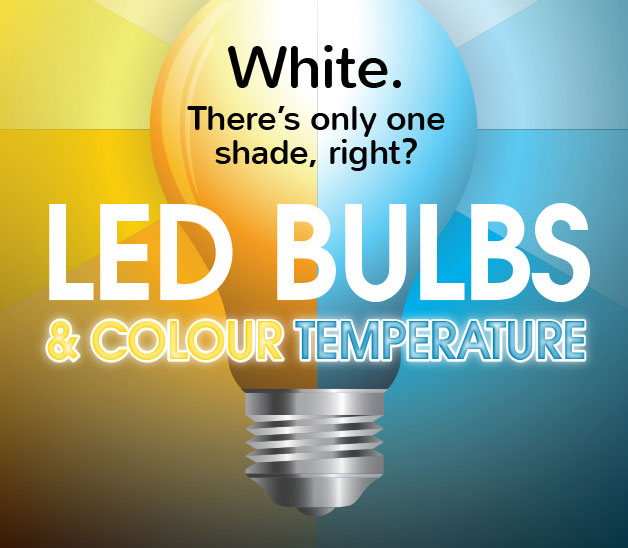 Incandescent, or traditional, bulbs, do not offer a choice as to the shade of white given out. The reason is all in the science, as they work when electricity is passed, via a wire, to a tungsten filament inside the bulb. When it gets hot, it glows brightly, giving out light. In most circumstances traditional lamps and bulbs are warm white.
Unlike incandescent and fluorescent lamps, LEDs are not inherently white light sources – but white light is needed for them to become general light sources. There are two ways to create this white light; either by mixing different colour lights to create a white effect, or by using a phosphor coating on a blue LED. This coating emits a yellow light, which combines with the blue light to also give out a white effect.
The LED colour temperature, therefore, or the amount of red, yellow, blue and white light emitted, determines the colour of an LED lamp. The colour temperature is measured in kelvins (k), with a lamp of between 2700-3500k being classed as 'warm' and an LED of between 6000-7000k described as 'cool'. Those in between have the colour temperature of daylight or natural light.
Warm white LEDs tend to be used in rooms such as bedrooms and living rooms, where their softness invites relaxation. Natural and daylight white LEDs are suitable for kitchens and bathrooms, as well as offices, while cool whites are often found in commercial premises and hospitals. It's also possible to mix and match; for example, warm light can create a cosy atmosphere in a kitchen but cool white lamps might be needed over work surfaces.