Why choose dimmers?
One of our biggest manufacturers we work with are Retrotouch and one of our more popular type of switches is the dimmer switch.
Dimmers give us the option to dim or brighten the light to how we want it depending on our mood. Research confirms the average person prefers dim light whilst in a relaxing/calming mood and brighter light is required when we're focusing on something; making dinner or concentrating on a particular project. So having that option makes us feel more in control. We have more information on mood lighting here.
Retrotouch rotary dimmers
Retrotouch offer a single dimmer module that is suitable for all their dimmer plates (excluding touch dimmers) making the dimmer a lot easier to manage.
This particular module is suitable to use with LED bulbs and halogen bulbs, however you will need to ensure you do not exceed over the wattage, this could cause the bulbs to flash, flicker or even blow the bulbs.
If you are using LED bulbs with this dimmer, you will need to follow the requirements below: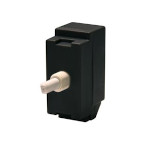 Max Load rating: LED lamps Max. 120W (Max. 10 lamps)
If you're using halogen bulbs with the dimmer, you will need to follow the requirements below:
Max Load rating: Halogen Lamps Max 200W
This particular module can be used as a 1 or 2 way, however if you are looking to wire this dimmer up as a 2 way, this can only be wired on a 2 way circuit in conjunction with a 2 way switch.
Retrotouch touch dimmers
A similar, smooth design as the rotary dimmer, although not available in the Simplicity ranges, Retrotouch have created a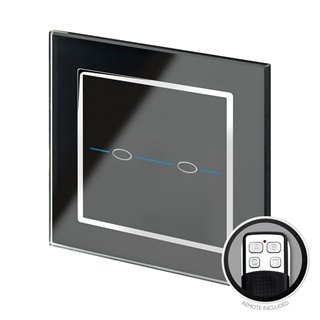 modern touch dimmer designed for the crystal range.
Some of the touch dimmers are available with remotes and some without. Both dimmers are manufactured very differently, the dimmers are specifically designed to work with or without a remotes. The dimmers that don't include a remote, work with touch control only, so a remote will not be compatible with this particular touch dimmer.
The touch dimmers are also only 1 way and will not work on a 2 way circuit.
As do all of the Retrotouch Crystal products have, the touch dimmers include the plain or the chrome trim design to choose from. The touch dimmer also glow blue in the night so your switches are easy to spot in the dark. They also have concealed screws for a smart finishing touch.
Please note: While the Retrotouch dimmers work with many manufacturers of LED lamps/bulbs, the manufacturer does not guarantee they will work with every make of lamp/bulb. Retrotouch recommend Philips Master dimmable LED lamps for use with these dimmers, however they have also created a list of tried and tested bulbs and what is compatible with these dimmer.
Retrotouch Dimmer and Lamp Compatibility list
latest testing 01/05/2019
Compatibility
Brand
Model
watts
Retrotouch Touch and remote dimmer
Retrotouch rotary dimmers
GU10 lamps
Megaman uDim
LR4605dLN-WFL
5
NO
NOT compatible
YES
V good dimming
Philips LEDspot
LEDspot MV
5.4
YES
V good dimming
YES
V good dimming
LG
P0640G25T11
6
YES
V good dimming
YES
V good dimming
ENLITE
EN/DGU005/30
5
NO
NOT compatible
YES
OK dims to 30%
ROBUS Emerald
R50GU10D-CW
5
NO
NOT compatible
YES
Good
Goodwin S series
GSP16G1005D/827
5
YES
V good dimming
YES
V good dimming
Goodwin C series
GCAP16G1007D/830
7
YES
V good dimming
YES
V good dimming