What is an Edison Screw?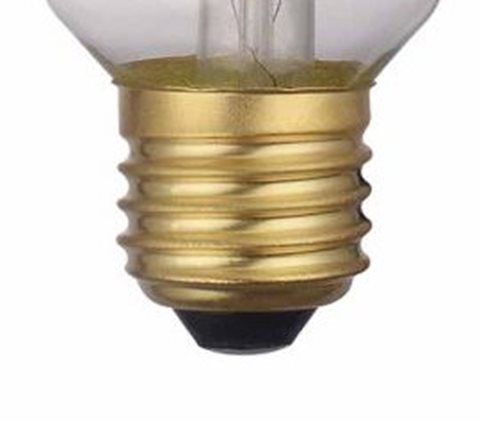 Edison Screw light bulb is a lamp with a a screw fitting. The fitting is known as an E27 fitting.
It is the most common fitting for a bulb or a lamp in modern lighting, replacing the traditional Bayonet (B22) fitting that used to be used in UK manufactured lamps.
As the E27 fitting is a universal fitting, most modern light fittings or luminaires use this fitting.
What type of Bulb can I buy with an Edison Screw Fitting?
In the UK most modern bulbs or lamps are now LED bulbs. It is still possible to get halogen or incandescent light bulbs with an E27 fitting, but this is only likely to be possible while old stock lasts, once these have been depleted you will need to migrate to LED lights.
These are more energy efficient and are often brighter. It is also possible to get them in a variety of different colours. Look out for the Kelvin value, often also given with a guide to the white colour (warm white, cool white, daylight).
Can you get traditional looking Edison Bulbs?
With original LED lamps and bulbs, it was very obvious to see the LED elements within the lamps, however with the invention of LED filament lamps, it is now possible to get LED lamps that look exactly like a traditional incandescent light bulb. Not only that, but you can now get a wide array of vintage LED lamps.
Due to the flexibility with the LED filaments, it also means the more modern fittings can have more variety to the style and design on the filament. Old fashioned incandescent filament lamps were also notoriously dim, but this has been resolved with the modern LED filament vintage lamps. They are also now widely available as dimmable LED versions too, but please make sure you match these with an LED dimmer, as many traditional leading edge dimmers do not work with LED lamps.
You can however buy a replacement LED module for most dimmers, so you don't have to replace the whole plate, just the individual module.
What shaped Edison Bulbs can I Buy?
As well as the normal GLS lamp fitting (a traditional looking light bulb shape) you can also get golfball lamps, candle lamps and vintage lamps. These can include the larger squirrel cage lamp size, as long with more unusual shapes, such as the tubes and valve bulbs.