Why use flat and slim plates?
One of the most popular styles of plate we have is the flat plate. With its sleek, flush profile, it is great if you are looking for a modern take on the traditional colours available. Where traditional sockets and switches can be quite bulky, a more modern and neater design is often preferred. Sockets and switches sitting flush against the wall, can on some occasions, look more appealing.
Important information.
Here are a few things to note before purchasing from any of our flat ranges.
"Do I have a deep enough back box for the sockets or switches to be fitted correctly?"
These are the recommended depths for each of the plates: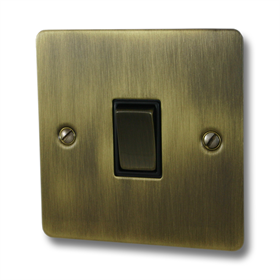 Switches 25mm
Socket & Dimmers 35mm
USB Sockets, Shaver & Cooker Switches 47mm
This detail can be checked by your electrician, before purchasing the items. Even if you are replacing existing flat plates, it would always be best to check that our flat plate ranges will fit correctly.
Tips on how to install them correctly
To avoid installation problems fitting boxes must be fitted below the plaster depth.
The flat plates are particularly suitable for new flush walls. If the walls are uneven, the plates will not sit correctly on the wall.

Alternative options, if you can't fit the flat plates:
With many of our flat plate ranges, we do have a raised profile alternative which might be a suitable alternative, if you are unable to install the flat plates.
We hope we have given you enough information here, but if we can offer any further guidance, please do not hesitate to contact a member of the team via email sales@socketstore.co.uk or by telephone 02920004887.