Black Cooker Switches
We have a number of black cooker switches to available to buy from Socket Store.
All our cooker switches and socket ranges are available with three different types of cooker switches.
Black Cooker Switch with Socket
The first, and most popular, black cooker switch is a red switch next to a socket. The switch is a 45 amp switch and the socket is a switched socket.
Black Single Cooker Switch
The second switch type is a single 45 amp switch, available to us as a cooker switch but is also used in other locations where a higher amperage switch is required.
Vertical Black Cooker Switch on a Double Plate
This is a vertical double plate with a single red switch. Once again it is a 45 amp switch, but is often used in a kitchen.
Once you've decided which cooker switch you require it's down to the plate style and finish. We have a number of matt black finishes along with several polished/shiny finish styles. Finally we have our Retrotouch black glass cooker switches.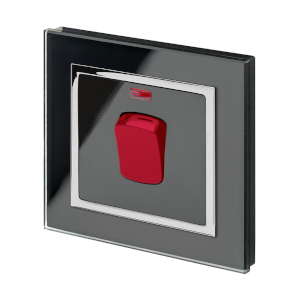 Matt Black Cooker Switches
Within the matt black styles we have the flat matt black finish and the hammered black finish. Both have a matt finish, once has a smooth texture, one has a more textured hammered finish. Within these ranges of plates there are a number of different plate designs available. There is the standard Contour plate, the oversized Spectrum plates, and the flat plates. We also have the prestige cast plate range of cooker switches.
Polished Black Cooker Switches
Within the polished brass cooker switches there are two distinct ranges. The iridium black range of switches from Varilight and the black nickel cooker sockets from Volex and Crabtree. Both of these style of plates are available as flat, screwless and a standard classic, decorative plate.
Retrotouch Black Glass Cooker Switches
We also have a black glass cooker switch from Retrotouch. This is a single gang 45 amp cooker switch with a black glass surround. It is available with a plain surround or a chrome trim.
Please browse the black cooker switches below, or call us on 02920 004 887 for more technical support.