Chrome Cooker Switches
We have a full range of chrome cooker switches and chrome cooker sockets, available to buy from Socket Store.
When it comes to chrome cooker switch plate, we're pretty confident that we have the plate for you! We have three types of cooker switch plate styles to choose from, and many different styles too.
Three Chrome Cooker Switch Plates
All our cooker switches are 45 amp cooker switches. They are available as a traditional cooker switch with an additional socket next to it, it's fitted on to a double switch plate.
We also have a single 45 amp cooker switch, also used for some power shower switches and various other uses. We also have a vertical double cooker switch, also on a chrome switch plate. All the plates have a red 45 amp cooker switch.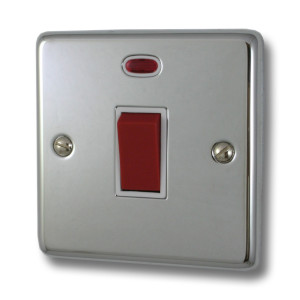 Three Chrome Cooker Switch Finishes
On top of the three switch plates to choose from, we also have three chrome finishes available. We have brushed chrome, also known as satin chrome. We also have polished chrome, and finally we have satin chrome. Feel free to browse the finishes below.
Many (Many!) Chrome Cooker Plate Styles
Once you've chosen the plate and finish, it's on to the plate style. Within each chrome finish we have any different styles. They vary from the traditional plates, such as G&H Brassware's Contour chrome switches, Varilight's Classic switch plates or the stylish Deco switch plates.
Traditional Cooker Switch Plates
We also have a number of traditional chrome cooker switches, including Georgian, Victorian, and the solid Vintage Cast plates, for the ultimate luxurious finish.
Flat Plate Cooker Switches and Screwless Cooker Switch Plates
As well as the plethora of other chrome cooker switches and sockets we also have flat plate chrome cooker switches.
Please remember that you will need a deeper back box if you go for the flat plate cooker switches. Our manufacturers would recommend using at least 47mm deep back box with these plates.